Source – globalintelligenceletter.com
"…Low-Cost Travel to Dream Destinations…This really is a wonderful life. And here's the point of this dispatch: It's not a life that is particularly difficult to pursue. All of this travel is possible because I have a visa to live and/or work in Europe…which makes traveling throughout this part of the world so much easier and more affordable"
GREECE GETS NOMAD VISAS RIGHT
Jeff D. Opdyke
You have, no doubt, seen the stories over the past year regarding countries hawking digital nomad visas. In a pandemic-addled world, it's a way to attract something more than short-term tourists.
By and large, most of those visas aren't worth the effort. They're often expensive and many bid you adieu after a year. That means just as you're settling into your new life living and working abroad, you have to leave. Frankly, I'd rather just pursue a temporary residence visa somewhere that converts into a long-term residence permit after a year.
But now along comes Greece with what might be the best digital nomad visa I've yet seen. Details aren't final, but here's the idea:
Greece gives you a digital-nomad visa and you're taxed only on 50% of your income. That rate is good for seven years, which happens to match the amount of time you must live in Greece before applying for citizenship and a Greek passport. That's a European Union passport, which gives free rein across much of the continent.
If this plan comes to pass, it will be a great way into the EU—and a gorgeous place to live.
These are the kinds of opportunities—rarely front and center in traditional financial media—that I explain in my Global Intelligence Letter and daily Field Notes. See: IntLiving.com/FieldNotes.
Related….
A Major Hidden Benefit of Living Overseas
Low-Cost Travel to Dream Destinations
There are no ferries between Portugal and Morocco.
I know this because I've lost an hour of my life in a futile hunt for one. Spain to Morocco—yes. But venturing from southern Portugal into the southern Spanish town of Algeciras, where the ferries launch across the Strait of Gibraltar to Morocco, is its own obstacle course. So, no go.
None of this is particularly relevant other than the fact that it is annoying my life to a small degree at the moment as my wife and I plan a 10-day tour of Portugal, followed by 10 days in Morocco for a combined family vacation/job-related journey through the North African country.
Given the itinerary of Casablanca, Tangier, Fez, and Marrakesh, a ferry to Tangier would be so much more convenient than a flight to Casablanca. But to quote Doris Day: Que sera, sera.
Such are the joys and the challenges of life on the road.
On the one hand, inconveniences arise. On the other hand, you're living your life in the world and experiencing all the newness of another culture, another place, and another set of food groups that you didn't realize go so well together.
Of course, at the end of the day, one massively outweighs the other…
This is truly what I love most about my life as a nomadic writer based in Europe: I can hop on a plane or a train and be enveloped in an entirely different culture in short order.
Two hours and I'm in some Baltic nation, shopping at a local street market for some kind of spicy, preserved fish that I didn't know I liked. Two hours in the other direction and I'm noshing on a pastel de nata custard pastry for breakfast in Lisbon, or downing a Smithwick's beer for lunch in Ireland.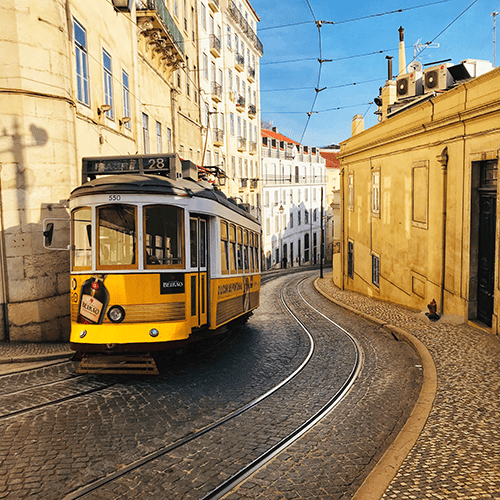 Next month, I'm heading into Oman for work, and into Saudi Arabia to visit a friend.
I've got Singapore coming up, maybe a side trip in Laos. Uruguay and Cuba are on the hit list for this fall. A drive from Panama to Costa Rica and into southern Nicaragua is on the calendar as well. And in August, hopefully, my colleague Ciaran and I are going to hit up Scotland for a tour of whisky distilleries.
All along the way, there will be annoyances. Of this, I am certain.
Flights will be canceled. Roads closed. No one will have thought to start a ferry service between southern Portugal and northern Morocco (seriously, come on guys).
But whatever will be, will be.
Because this really is a wonderful life. And here's the point of this dispatch: It's not a life that is particularly difficult to pursue.
All of this travel is possible because I have a visa to live and/or work in Europe…which makes traveling throughout this part of the world so much easier and more affordable.
And here's the thing: You can get one of these visas too.
I know, I know—seems easier said than done, Jeff!
But actually, it's increasingly easy to find a European country that will open its doors to you as a long-term resident…which can lead to permanent residency, if that's what you desire.
They're popping up all over these days in this post-pandemic world where lots of Americans are increasingly looking to live out their dreams of living abroad and traveling more frequently.
I mean, countries like Portugal, Spain, Germany, France, Hungary, Malta, and the Czech Republic, where I live, have always been relatively easy when it comes to obtaining the right long-term residence visas.
Now we have Greece, Croatia, and Cyprus recently joining the fold. I'm certain others will enter the game soon as well, since the demand is obvious.
Even if they don't, you have numerous options already available, in some pretty amazing countries.
Just a bit of paperwork hassle is all you have to deal with, really.
And then you too can live in Europe, traveling about freely and inexpensively…and spending a futile hour trying to find a ferry to Tangier.
Jeff D. Opdyke is a financial reporter who has covered investing and personal finance for The Wall Street Journal for the past twelve years. He is the author of Love and Money: A Life Guide to Financial Success and now the lead journalist for the Global Intelligence Letter.