Source – nationalpost.com
"…Why spend a $1,000 a year in taxes when you could be spending it on something else?….Port de Grave residents pay $75 a year per household to Bay Roberts for fire protection and $160 a year for garbage collection. (If you don't pay in full by Jan. 31 you are fined $15, and if you still don't pay the waste disposal committee comes knocking on your door)"
Tax-free Utopia: Newfoundlanders in unincorporated areas pay no municipal taxes. How long can it last?
What everyone in Port de Grave knows is that when something needs to be done you get up and do it yourself and when somebody needs your help you get up and help them
Joe O'Connor – January 25, 2015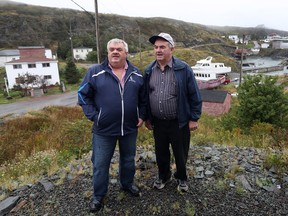 Vernon Petten talks in torrents, loud and fast, sprinkling his speech with "ehs" while making sure that I get the pronunciation right when he is pronouncing Port de Grave, Newfoundland. It is G-r-a-v-e, as in six-feet-under, not Graaaaaave, as in, rhymes with have.
Mr. Petten, in his torrents, divulges that he is 78, a retired fisherman and that he learned more about life working on a boat than he ever learned sitting inside a classroom. And what he learned most, and what everyone in this community of 800 or so souls knows to be true, is that when something needs to be done you get up and do it yourself and when somebody needs your help you get up and help them.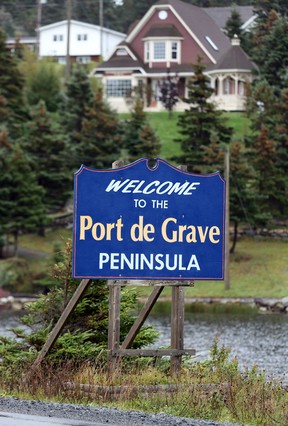 "We are used to helping one another out around here," Mr. Petten says. "Neighbours actually know their neighbours by their names, I can tell you that. We are a well-run community. We like our freedom.
"We like things here just the way they are."
Here is how things are in Port de Grave: residents dig their own wells, hang their own streetlights, put in their own septic beds and make their own decisions by volunteer committee. There is a committee for waste disposal, a fisherman's museum committee, a recreation committee, a Christmas boat lighting committee and, a few years back, the now defunct Islendingur committee, which was tasked with planning the festivities for the arrival of a replica Viking ship in the harbour.
People pull on the same rope in Port de Grave because it is what people do and there is no one to point the finger at when something doesn't get done since, for all the committees they do have the one thing the community doesn't have is a mayor or any local councillors or any local government whatsoever. They are out on their own, these volunteers, and like some 200-plus other unincorporated rural communities speckled about Newfoundland without a mayor to speak of, totaling some 50,000 people in all, they don't pay any municipal property taxes.
That is correct: no property taxes. None.
Welcome to Port de Grave. Welcome to Vernon Petten's tax-free, communal decision-making, shrimping and crabbing utopia.
"Libertarians should go to Port de Grave," says Rob Greenwood, executive director of the Harris Centre at Memorial University and an expert in regional development strategy. "If you look at Port de Grave, their harbour is full of million-dollar fishing boats. The locals are extremely entrepreneurial and relatively well-off.
"These are smart, high capacity skippers and they do a good job of running their community. Mind you, they are still going in to Harbour Grace, into Carbonear, and into Bay Roberts to access the hockey rinks and the shopping malls and the community swimming pool. They are in a locality, a functioning region, where there are incorporated municipalities where people are paying the taxes to provide all the amenities that Port de Grave enjoys.''
And that perception, that opinion, is a sign of the emerging trouble for this tax-free utopia.
The folks in the municipalities, the people who pay taxes, elect a mayor, etc., are weary of these renegade, unincorporated burghs, an anomaly uniquely specific to Newfoundland and Labrador. (The rest of us Canadian suckers all pay some form of municipal property taxes, according to the Canadian Taxpayers Federation).
Advertisement 5Story continues below
This advertisement has not loaded yet, but your article continues below.
Article content
The whole mess, according to Churence Rogers, the mayor of Centreville-Wareham-Trinity and president of Municipalities Newfoundland and Labrador, a fraternity of 276 municipalities dedicated to sustaining "strong and effective local government," traces back to Newfoundland's decision to throw its lot in with Canada in 1949.
"All of a sudden you had towns that could access provincial funding if they were incorporated or if they had a local council, and they could go cap in hand to the government in St. John's and request funds to do things like improve water quality, or put in street lighting, and so that's how our municipal structure evolved," Mr. Rogers says. "It wasn't well organized. And now we have rural areas of the province that are in decline and struggling to maintain and provide services that they have been providing for 30 years, and that has led to a discussion about regional governance, where all the municipalities in a region could be stronger if they worked together.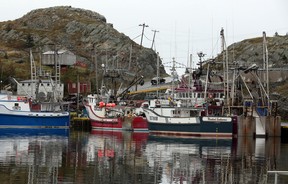 "These groups of unincorporated communities need to be a part of the bigger picture. We need everybody to be involved. At our meetings we invariably have local councillors complain about how their constituents pay municipal taxes, and provincial tax, and down the road there are people who pay provincial income tax and don't pay any municipal tax.
"They might pay a couple hundred dollars a year in service fees for garbage collection and fire protection from a neighbouring municipality that they may have an agreement with, but it is still far from what their neighbours in the municipality are paying in taxes. There is a perception that it is unfair."
Mr. Rogers isn't advocating for adding more municipalities but for having fewer, for taking unincorporated areas and pre-existing incorporated towns, and merging them into larger, like-minded municipalities. They would start speaking to the provincial government with a more powerful regional voice, he says, instead of a collection of voices in the wilderness.
Also, as it happens, everyone in Newfoundland would then pay municipal taxes.
Which, Mr. Greenwood at the Harris Centre admits, isn't, as an idea, universally popular.
"Look," says Mr. Greenwood, ''Bay Street lawyers find tax loopholes. People adapt and play the game of whatever system they face. And so why the hell would you build your house inside the boundary of a municipal boundary when you could go a mile outside and have a view of a bay and just pay for your garbage collection?
"You'd be nuts. We are economic optimizers. But, as a society, we need to be more mature than that."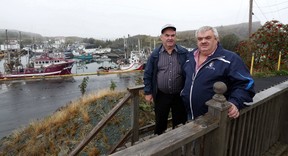 Do we? Ross Petten is Vernon Petten's eldest son, a 58-year-old retired fisherman and a volunteer on many a Port de Grave committee, including waste disposal, which he has chaired for the past 34 years.
"It is a wonderful beauty here," he says. "But it is hilly, rough terrain, and it would cost billions, not millions, but billions to put in water and sewer, and there is no interest here to incorporate, it offers us nothing."
Port de Grave residents pay $75 a year per household to Bay Roberts for fire protection and $160 a year for garbage collection. (If you don't pay in full by Jan. 31 you are fined $15, and if you still don't pay the waste disposal committee comes knocking on your door).
Mr. Petten points out that drilling an artesian well costs money, as does installing and emptying a septic bed, and that the dollars and cents of it effectively equal out in the wash. And yet one man's definition of equal is another's invitation to make an easy buck.
The house for sale at 23 Darrells Road, Port de Grave, has five bedrooms, two bathrooms, a rear deck, a two-car car garage, a large eat-in kitchen, a rec room and a built-in wet bar. It is listed for $199,900 and the ad for it leads with the really juicy stuff: "Oceanfront, Spectacular view, sunroom and tax-free zone — this property has it all!"
The tax-free tease, says Morley Moyles, a realtor based in St. John's who sells homes in unincorporated communities, is particularly attractive to American buyers looking for a vacation property with an ocean view from May to September.
"You don't want to be paying property tax on a home in Newfoundland when it is January and you are sitting in Colorado," he says. "There are definitely some pitfalls to it. Some people don't want to drink well water or take care of a septic bed, but if you are only using the home for a few months a year being in a tax-free zone is a definite perk.
'Why spend a $1,000 a year in taxes when you could be spending it on something else?'
"Why spend a $1,000 a year in taxes when you could be spending it on something else?"
Meanwhile, in St. John's, Premier Kathy Dunderdale's Progressive Conservative government is doing what governments do best when besieged by a hot-button issue: thinking about it while not saying very much.
"The Department of Municipal Affairs is undertaking a review of the provincial/municipal fiscal framework," Kevin O'Brien, the Minister of Municipal Affairs, said in an email statement. "The goal of this review is to identify and recommend options to change the way services are delivered, paid for, and shared to help ensure that we are best-positioned to meet the needs of citizens now and into the future."
Vernon Petten, living in the house near the harbour full of million-dollar fishing boats where he has lived for 52 years and never paid municipal taxes, has a fondness for the past.
He is a crab man and a shrimper at heart, who learned about life by making a living from the sea and who enjoys life just the way it is, just the way it has always been. Where if a neighbour gets thirsty you go ahead and let them have a drink from your well, and if a man needs a streetlight, by gum, you go out and hang it on that pole by yourself.
"Port de Grave is not such a bad place to live," Mr. Petten says. "You should come here and see for yourself."